By Guest Contributor Tamura A. Lomax; originally published at Feminist Wire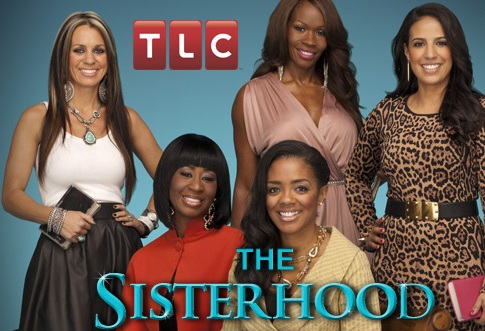 There's been much talk about TLC's new show The Sisterhood, a reality show about the lives and struggles of Ivy Couch, Domonique Scott, Christina Murray, DeLana Rutherford, and Tara Lewis, five pastor's wives in the Atlanta area.  While some critics are threatening to boycott the show, and others are framing it as evidence of black [male] preachers losing their way (which I guess is synonymous with the Black Church losing its way, but that's another issue), millions of others, myself included–a former "first lady" and black feminist scholar of religion, race and media–are flocking faithfully to the television screen on Tuesday nights with popcorn and bottled water in hand.
And let me be clear: like many, I'm "sick and tired of being sick and tired" of the operative mediation of the global racist and sexist imagination through black women's corporeal realities.  I'm tired of mass-mediated notions of "black womanhood" being both the adjective and the noun that modifies and constricts space, time, and meanings. I'm tired of black women consistently serving as—through both overdetermination and consent—televisual artifacts for establishing white, black, and other "normalcy."  And yes, I'm sick and tired of black women functioning as cultural mediums for soothing primal fears, representational tropes for suckling the collective fascination with black female sexuality, and work-horses for demonstrating a mastery of unscrupulousness and otherness.  I'm tired.
And yet, I'm also admittedly drawn in to this show and others like it, week after week.  Like so many others before them, Ivy, Domonique, Christina, DeLana, Tara, and many other reality TV women, inspire all kinds of repulsions, attractions, and anxieties.  However, they also satiate [some of] our ratchet taste buds.  Can we have a moment of honesty?  The Sisterhood is a hit show.  And this isn't because no one's watching it.
So what's the draw?  The Sisterhood creates a conflict between public politics, private realities, and personal taste.  However, this war between the emperor's coat of high culture and the everydayness of his nakedness is nothing new.  This ongoing juxtaposition highlights the ever-increasing tensions between the "cultured" and the "ratchet": the former drawing attention to so-called taste, tact, refinement, civilization, and genius, and the latter calling attention to the so-called vulgar.  While the former is purported to arise out of the Geist–the intellectual inclinations–of our times, the latter is purported to spring forth from the worst of black culture.  However, what better communicates the spirit of the time than the ratchet?  And no, I don't mean the ways that ratchet gets deployed to project a collage of derogatory meanings onto black women's bodies.  I'm referring to the ways that ratchetness often undergirds the ricocheting of raw emotions and missiles of unfiltered truths.
Read the Post A Black Feminist Comment On The Sisterhood, The Black Church, Ratchetness, And Geist