by Latoya Peterson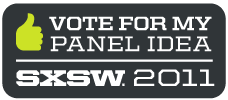 I don't know what happened to August, but September is staring us in the face and it's the last week to vote for our South by Southwest Panels! (Voting Closes Friday, argh!)
Here's my idea for this year:
Tech Power to the People! Digital Community Engagement

Latoya Peterson, Racialicious.com

How do we ensure no one is left behind in the tech revolution? This panel is designed to provide a look into the best practices for using media to engage with communities, particularly minority outreach and low income/low access areas. This panel will feature a variety of activists explaining the ways in which they have used mobile campaigns, apps, blogs, and other methods to engage their communities and transfer skills, as well as tips for evaluation and measuring results.

Questions answered:

1. How can I ensure that the community I am working with can actually utilize this technology? Read the Post Vote for Our Race, Tech, and Social Justice SXSW Panels!