by Special Correspondent Nadra Kareem

*Warning: Spoiler Alert*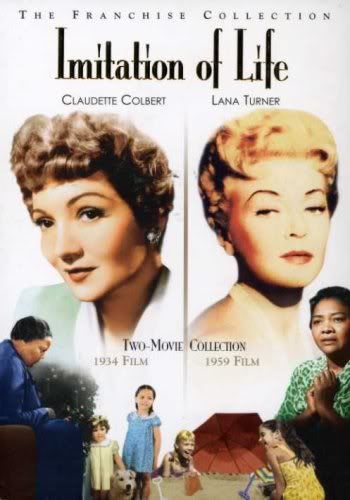 If there's a classic film on race that gives "Guess Who's Coming to Dinner" a run for its money, it's 1959's "Imitation of Life.
This year marks the 50th anniversary of the film, which stars Lana Turner and Juanita Moore. There's no denying that this film is chock full of stereotypes and relegates its black characters to the sidelines—even on the DVD cover. So, why today is this Douglas Sirk film still regarded as ab fab? A few reasons come to mind—both shallow and serious.
For starters, Lana Turner's wardrobe is to die for. Mahalia Jackson sings her ass off, and the acting in this melodrama reaped Academy Award nominations. To boot, the movie's emphasis on mother-daughter relationships gives it mass appeal. Mix in a couple of failed romances and an untimely death, and you have all the ingredients needed for a tearjerker.
"Imitation of Life" inspired a 2001 R.E.M. song of the same name and the 2002 film "Far from Heaven." Also, in '02, a scene from the film was featured in Eminem's star-making vehicle, "8 Mile." Its enduring popularity made it no surprise when the film debuted on DVD in 2003.
The Lana Turner version of "Imitation of Life" is a remake of the 1934 film of the same name starring Claudette Colbert and Louise Beavers, based on the book Imitation of Life by Fannie Hurst. (Both films were released together in a DVD set in 2008.) In the first film, white actress Colbert and black actress Beavers hawk a pancake recipe together. In the 1959 version, the focus here, Lana Turner (Lora Meredith) runs into Juanita Moore (Annie Johnson) on Coney Island after their daughters become playmates.
At first, Lora has no idea that Annie is the mother of little Sarah Jane. "How long have you taken care of her?" she asks Annie. Annie is brown-skinned, and Sarah Jane is "light, bright, damn near white," as the saying goes.
Lora looks like she's going to crap her pants when she learns that Annie isn't SJ's mammy, prompting Annie to tell her that Sarah Jane's dad is "practically white." This explanation is good enough for Lora, who likely would've needed smelling salts had SJ's dad been actually white instead of practically so. Still, there's no way for us to know his race for sure because he took off before Sarah Jane was born, leaving Annie to fend for herself and young daughter alone. Read the Post Classic Film Review: Imitation of Life