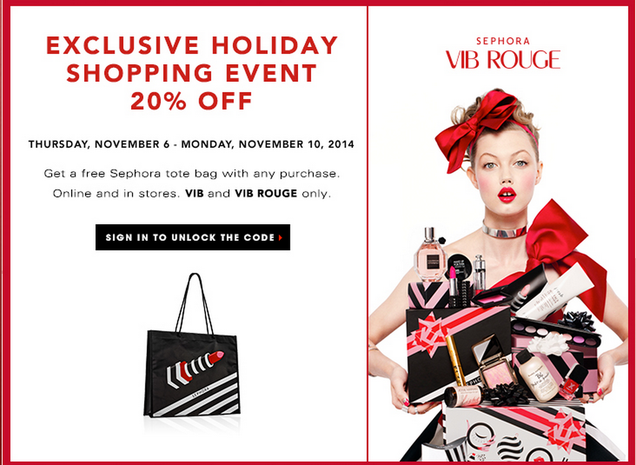 If you're a makeup junkie like me (and spent a ridiculous amount at Sephora last year to be eligible), then this notification for Sephora's 20% off sale event had you squealing. Unfortunately, as many major companies are wont to do, they ruined the excitement almost immediately with some questionable solutions to their makeup resale problem.
Reselling would be the process of buying the makeup at the offered discounted price and then selling it of again at the original price for profit. Sephora doesn't have sales often, so it might not be out of the question to assume that when they do, the issue might come up. What is out of the question is to assume that their Asian customers are doing it exclusively and cancelling their accounts because of it.
But numerous customers on Sephora's Facebook page and on a reddit thread allege that they've been locked out of their VIB accounts because they have Asian last names and/or international email addresses. Customers say that after finding themselves unable to purchase products on the Sephora website, they called Sephora's customer service line, where they were told they had been permanently blocked from using their accounts for trying to buy products (according to their terms of service, Sephora has the right to do this without providing cause). The current consensus among many shoppers is that in order to prevent reselling of makeup overseas at a lower cost (which is a serious issue for retailers), the company is blocking customers from purchasing during this sale. Specifically, customers allege that this is happening most often to Asian customers.
It doesn't take much to find a variety of complaints on Sephora's Facebook page confirming the accusations:
Sephora released a statement on the 7th, though a quick scroll through the page confirms that many customers still don't have access to their accounts needed to shop the sale which ends today. There is no mention of a sale extension, or any offer, to make up for the lost time or discriminatory practices.
A Message To Our Clients:
Sephora is dedicated to providing an exciting and reliable shopping experience and we sincerely apologize to our loyal clients who were impacted by the website outage that occurred yesterday.

Our website is incredibly robust and designed to withstand a tremendous …amount of volume. What caused the disruption yesterday was a high level of bulk buys and automated accounts for reselling purposes from North America and multiple countries outside the US. The technical difficulties that impacted the site are actively being addressed and our desktop US website is now functioning normally. We are actively working to restore our Canadian, mobile website, and international shipping where applicable. There has been no impact on the security and privacy of our clients' data.

The reality is that in taking steps to restore website functionality, some of our loyal North American and international clients got temporarily blocked. We understand how frustrating it is and are deeply sorry for the disruption to your shopping experience.

However, in some instances we have, indeed, de-activated accounts due to reselling — a pervasive issue throughout the industry and the world. As part of our ongoing commitment to protecting our clients and our brands, we have identified certain entities who take advantage of promotional opportunities to purchase products in large volume on our website and re-sell them through other channels. After careful consideration, we have deactivated these accounts in order to optimize product availability for the majority of our clients, as well as ensure that consumers are not subject to increased prices or products that are not being handled or stored properly.

We have established a VIB hotline to ensure that if we are able to verify that your account was erroneously deactivated, it is reactivated immediately. Please call 877-VIB-ONLY (1-877-842-6659)

If you experience any difficulties placing your order please contact us at 1-877-SEPHORA (1-877-737-4672) or email us at client.service@sephora.com.

Our VIB 20% off promotion runs through Monday, November 10th and our VIB and VIB Rouge clients have several days left to take advantage of this exclusive holiday shopping event.
The obvious solution would have been to simply limit the number of each product that a customer could buy. Your average customer probably would have been fine to know that they could buy no more than ten Stilla eyeliners or what have you. Instead, in a move that can't possibly be worth the PR fallout, Sephora chose the lazy racist's way out and went after the surnames (and apparently email domains commonly used in East Asian countries) they decided seemed suspicious.
Just imagine what they'll do when they find out that the Lot-Less on 40th and 7th is reselling their nail polish. (Probably nothing. That might take a well thought out effort.)