By Guest Contributor Darnell L. Moore; originally published at Feminist Wire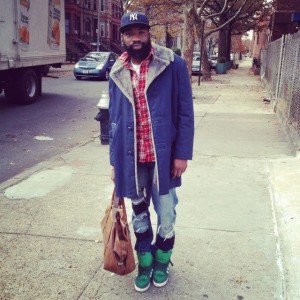 Enter Scene: I am walking in Bed-Stuy, Brooklyn—where we do more than die, by the way—rocking a close fade with two parts on the side, a full beard and mustache lined up perfectly, eyes protected by a pair of fresh chocolate browline frames (I was two blocks from Malcolm X boulevard, after all). I am donning a fitted button-up white shirt, closed off with a pink and gray striped bowtie, form-fitting charcoal gray blazer, dark blue kinda-skinny jeans, and a pair of hot pink and silvery gray kicks.
Passerbyer 1 checks out my footwear.
Passerbyer 2 offers up the obligatory, "Yo, son, your kicks are hot."
Passerbyer 3 is looking at me like I'm way off, as if to say, "Really, you got on pink sneakers, sucka? That's gay as hell. You are doing way too much!"
Passerbyer 4, my neighbor repeats, like he always does, "You cool, brother."
My representation as a certain type of black man often transgresses the accepted boundaries of black masculinity. The ways I cut my hair, shape–or refuse to shape–my beard, style my clothes, walk, talk, and gesture tend to confound some folk and, on occasion, anger others because of my seeming transgressions. Sinning ain't easy.
Indeed, some will stare at me as I make my way down any street rocking a beard, frames, "man bag," and a little less than loose clothing because my gender presentation seems to be read as a sign of non-heterosexuality, deviance. In fact, most folk are okay with what they "see" until they notice that I am wearing something like hot pink (!) sneakers. According to some, a black man wearing hot pink sneakers, like a black woman wearing a suit, ain't at all "cool."
The notion of "black cool," in particular, seems to be limited, limiting, and quite "straight" (as in hetero and rigid). I am thinking, for example, of one of the inspirations that motivated Rebecca Walker's investigation of "Black cool." She mentioned during an interview on NPR that an image of then-Senator Barack Obama exiting a black Lincoln Town Car during the 2008 campaign "was really, at that moment, the epitome of black cool."
She went on to say that she was "drawn to that image because [she] wanted to decode it and to see where it fit into this Afro-Atlantic aesthetic." And while that image is but one of Walker's inspirations (and while her book, Black Cool: One Thousand Streams of Blackness, actually includes critical and beautiful essays that think through the gendering of "black cool"), that particular picture of Obama locates the quotidian "black cool" in a male-bodied, masculine, straight black man and leaves me to wonder: does coolness exist anywhere beyond black masculinity, maleness, and heterosexuality? As some of the writers in Walker's Black Cool argue, I think so.
Read the Post Black Freaks, Black F**s, Black Dy**s: Re-imagining Rebecca Walker's "Black Cool"