by Special Correspondent Wendi Muse
So even though fashion designers have a tendency to appropriate and re-design fashion they witness during their world travels (or, cough, imperialist imaginations), the magazine writers and journalists just can't seem to find the right words to characterize the collections. Instead of talking about geometric prints, the use of found objects as jewelry items, and color choices in a way that could be deemed appropriate and less offensive, they shade their words with sweeping generalizations and talk about "Africa" like a one trick pony.
In a recent New York Times fashion week photo spread entitled "African Influence on the Runway," the first mistake made is the usual assumption that Africa is one big country. Morocco has a completely different fashion history from South Africa which has a different fashion history from the Congo, just, you know, as a tiny example. So in the title alone, they end up equating the diverse fashion traditions to one big imagined Africa. To make matters worse, the corresponding article is entitled "Out of Africa." In reading the captions, I kept waiting for a punchline. The Times was just being ironic and funny, right?
Nope. They were for real.
Photo 1: a woman with crimped hair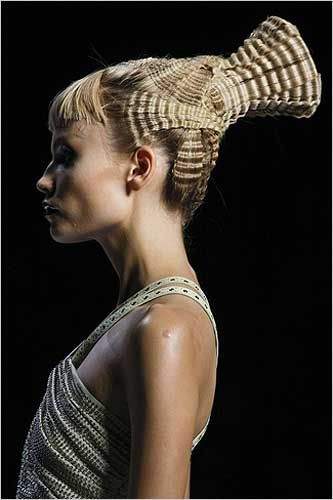 "In the 2009 spring season, African style is a drumbeat through the clothes and accessories. Surprisingly it isn't about the ethnic. Instead, it is the sculpted geometric shapes of Africa and its rich spicy colors that are the strongest forms of identity. Couture coiffeur Orlando Pita created these sculptural silhouettes for Christian Dior."
African style is a "drumbeat?" Come on, y'all, really? Oh and just in case we forgot, "rich spicy" is not a way to describe food. It describes a continental identity in its "strongest forms." Barf.
But wait, there's more. . . so much more! Read the Post Fashion and Patronizing, Colonial Rhetoric, Take #758080