by Special Correspondent Nadra Kareem
This review was originally posted on January 12, 2009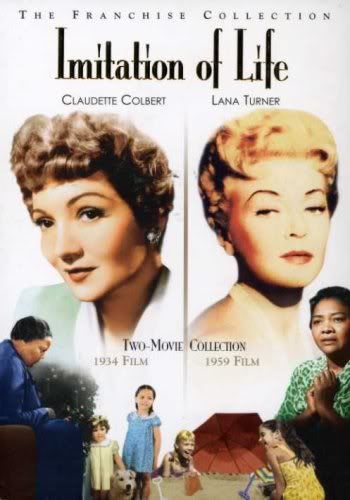 If there's a classic film on race that gives "Guess Who's Coming to Dinner" a run for its money, it's 1959's "Imitation of Life.
This year marks the 50th anniversary of the film, which stars Lana Turner and Juanita Moore. There's no denying that this film is chock full of stereotypes and relegates its black characters to the sidelines—even on the DVD cover. So, why today is this Douglas Sirk film still regarded as ab fab? A few reasons come to mind—both shallow and serious.
For starters, Lana Turner's wardrobe is to die for. Mahalia Jackson sings her ass off, and the acting in this melodrama reaped Academy Award nominations. To boot, the movie's emphasis on mother-daughter relationships gives it mass appeal. Mix in a couple of failed romances and an untimely death, and you have all the ingredients needed for a tearjerker.
"Imitation of Life" inspired a 2001 R.E.M. song of the same name and the 2002 film "Far from Heaven." Also, in '02, a scene from the film was featured in Eminem's star-making vehicle, "8 Mile." Its enduring popularity made it no surprise when the film debuted on DVD in 2003.
The Lana Turner version of "Imitation of Life" is a remake of the 1934 film of the same name starring Claudette Colbert and Louise Beavers, based on the book Imitation of Life by Fannie Hurst. (Both films were released together in a DVD set in 2008.) In the first film, white actress Colbert and black actress Beavers hawk a pancake recipe together. In the 1959 version, the focus here, Lana Turner (Lora Meredith) runs into Juanita Moore (Annie Johnson) on Coney Island after their daughters become playmates.
At first, Lora has no idea that Annie is the mother of little Sarah Jane. "How long have you taken care of her?" she asks Annie. Annie is brown-skinned, and Sarah Jane is "light, bright, damn near white," as the saying goes.
Lora looks like she's going to crap her pants when she learns that Annie isn't SJ's mammy, prompting Annie to tell her that Sarah Jane's dad is "practically white." This explanation is good enough for Lora, who likely would've needed smelling salts had SJ's dad been actually white instead of practically so. Still, there's no way for us to know his race for sure because he took off before Sarah Jane was born, leaving Annie to fend for herself and young daughter alone.
Now Annie has fallen on hard times. She's jobless and apparently homeless and begs Lora to take her and Sarah Jane in. Why she wants to move in with Lora doesn't make much sense. Lora's a widow who's not only broke but behind on her bills. It takes a stretch of the imagination to believe that Annie would insist on moving in with her instead of a more prosperous white woman or that Lora would take Annie in. Still, the two women move in together. To Sarah Jane's chagrin, Annie assumes the role of maid and mammy, her payment being room and board.
"I don't want to live in the back. Why do we always have to live in the back?" Sarah Jane objects when they move in with Lora and her little daughter, Susie.
Sarah Jane is none too happy about her station in life, a station she blames on her mother's dark skin. Accordingly, she wishes Lora were her mother. She takes Susie's white doll away from her because she doesn't want to play with a black doll. Later, she pricks Susie to find out if their blood is the same color because she's heard that black blood is different from white blood. Sarah Jane also wants to know what color Jesus was. When no one answers, she fills the silence by declaring, "He was like me…white."
The discord Sarah Jane brings to her new household follows her to school also. When Annie shows up during the middle of class one day, she finds out that Sarah Jane has been passing for white. (This is the scene featured in "8 Mile.") Her cover blown, Sarah Jane has a temper tantrum, stomping defiantly in the snow with Annie chasing her.
A major stereotype in "Imitation of Life" is that of Negro as saint. Annie is ever patient with Sarah Jane. She never raises her voice or backhands her, as you can bet some parents would do if their daughter pulled the stunts that Sarah Jane does. Because Annie is so Christ-like in the face of SJ's ingratitude, it's difficult to sympathize with Sarah Jane, who comes across like an evil brat. Yet, this child has clearly been through a lot—a father who abandoned her, a mother society tells her is a mismatch and a Gypsy-like existence due to the limited resources her mother has to draw on to survive. As she matures, one would hope that Sarah Jane would develop a more three-dimensional perspective, transferring the anger she has with her mother to the racially stratified society they live in. This doesn't happen, though.
Fast forward a decade, and Sarah Jane is still furious with her mother for being black. It doesn't matter that Lora Meredith is now a movie star and that she, Sarah Jane, Susie and Annie live in a house that could be on MTV's "Cribs." Sarah Jane remains surly. She doesn't want to date a colored boy, objects to helping Annie serve Lora's guests and to enrolling in a colored teacher's college.
On one count I agree with Sarah Jane and that's to do with serving Lora's guests. We find out that, while Lora has spent her money carelessly, Annie has saved every bit of hers, so why is Annie content to remain Lora's maid? Rather than invest in creating a life of her own, Annie puts aside cash for Sarah Jane's schooling and for the lavish funeral she's probably planned for before her daughter was born. It's as if the only thing this black woman has to look forward to is death, a misconception, I believe, even in 1959. Since Sarah Jane refuses to go to teaching school, Annie won't need to drop any coin on her education, though. Instead, she spends her money tracking Sarah Jane down when she runs away.
Sarah Jane decides to bounce when her mother's presence makes it impossible to pass for white. First, Sarah Jane's white boyfriend (Troy Donahue) dumps her and beats her up after finding out who her mother is. Then, Annie shows up to the dive bar Sarah Jane has been performing at in secret and blows her cover there. This leads SJ to pack her bags and head to California.
Am I the only one who cringes at this plotline? It's common knowledge that blacks pass for white to obtain the opportunities denied to them in a racist society. Sarah Jane herself says, "I want to have a chance in life. I don't want to have to come through back doors or feel lower than other people." Yet, she's passing for white to work in clubs? She could have remained black and landed such a gig, which entailed not only dancing but also taking off with clients after performances. Rather than give Sarah Jane any worthy motive for passing, the filmmakers chose to exploit the stereotype of the mixed-race woman as whore. Perhaps as a white woman, SJ could be an Ashley Dupré level whore rather than a Divine Brown level whore, but a whore she'd remain. Adding to my concern is that the storyline emphasizes how Lora Meredith refused to lie on the casting couch to be a movie star. In short, the white woman has integrity. The tragic mulatto, not so much.
While SJ is "dancing," Lora Meredith has some personal drama of her own. She's recently reunited with her former flame Steve (John Gavin) after dropping him years ago to pursue her acting career. This time around, however, their relationship faces another challenge when Lora's daughter convinces herself that she has fallen in love with Steve. What a silly plot twist. Susie knows that her mother and Steve were once more than friends, so it's pretty absurd that she deludes herself into thinking that now Steve has the hots for her and not for her mother.
Susie (Sandra Dee) is the character who most makes me want to hit "fast-forward." Equal parts bratty and giddy—when she's not pouting, she's squealing—Susie is completely self-centered. She shows limited empathy for Sarah Jane and Annie, which is saying a lot given that she's grown up with them. Then again, one can't blame Susie too much for being self-absorbed. The woman who gave birth to her is such a diva she makes Mariah Carey look humble.
Don't get me wrong. Watching Lana Turner being fabulous is junk food for the eyes. After Lora makes it big, we see her in her dressing room wearing a curve-hugging metallic gown and a matching jacket trimmed with fur. The next scene finds Lora in her luxurious new digs wearing a sheer floral piece that ties at the waist over a rose bodysuit. Even at home, she's fierce. Other ensembles include a flared shimmering tube dress with a luminous pink shawl and a bustier cut Grecian gown halved by a turquoise sash. Turner is knee deep in jewels throughout the film. Pink gems, turquoise gems, platinum.
Beyond the wardrobe, however, Lora can be hard to swallow sometimes. How full of herself she is comes to light when she tells Annie that she didn't know that Annie had any friends. Annie's response: "Miss Lora, you never asked." And when Annie grieves because Sarah Jane has disowned her, Lora is beyond callous, arguing that Susie's crush on Steve is the bigger issue at hand. "This is a very real problem," Lora says of Susie's feelings for Steve, which are about as deep as an episode of "The Hills."
So, let's get this straight. Annie's 18-year-old daughter hates her, hates her black blood, is a chronic runaway and is exotic dancing to make ends meet, and Annie's problems aren't "very real." Seriously?
Although I've told you what happens in the movie thus far, I won't give away the ending. Suffice it to say that, in the conclusion, we're led to think that the characters have gotten the reality check they need to stop being hateful bitches. The ending features Mahalia Jackson singing with such emotion that you'll get chills. If you're the weepy sort, have a box of Kleenex on hand. Also, if there's anyone you need to make peace with, prepare to make amends.
The 1959 version of "Imitation of Life" has been criticized for being an over-the-top departure from the novel. Moreover, the casting of Susan Kohner as the older Sarah Jane has been criticized because she's not black, as was actress Fredi Washington, who played the role (but with a different name) in the 1934 version.
I thought that the Mexican-Jewish Kohner did a convincing job as Sarah Jane. Acting and looks wise, she's believable as a light-skinned black, which wasn't at all the case for Anthony Hopkins in 2003's "The Human Stain." Perhaps she drew upon her experiences with real-life mother (dancer Lupita Tovar) in playing Moore's daughter in "Imitation of Life." Whatever her method, the onscreen chemistry between the two earned both Kohner and Moore Oscar nods. Kohner won a Golden Globe as well. Compare this to Turner and Sandra Dee, who weren't acknowledged for their acting in the film.
In addition to criticism about the casting, "Imitation of Life" has rightfully been targeted for fueling the stereotype of the tragic mulatto. The film makes it clear that Sarah Jane doesn't have a chance because she's racially mixed. "How do you explain to your child she was born to be hurt?" Annie asks Lora. However, what's been overlooked at times is that Annie is a tragic character as well, and not just because her daughter rejects her. A strong black woman before the phrase was in vogue, Annie is everyone's "Rock of Gibraltar," as Steve describes her. Although she's tired and weary, Annie takes time to give Lora a foot rub, a gesture Lora would never deign to make for her. In the beginning of the film, both Lora and Annie are broke, but Annie assumes the role of maid, doing Lora's laundry because she likes "taking care of pretty things."
Juanita Moore, interviewed by The Black World Today in October 2005, made it clear that saintly, self-sacrificing Annie in no way represented her. "Annie was nothing like me…," Moore told the publication. "I have been in a lot of pictures. However, most of them consisted of my opening doors for white people."
And such was the fate of a black actress in the 1950s.
If you've yet to see "Imitation of Life," become initiated by catching airings of it in January and February on Turner Classic Movies.