By Kendra James
 San Diego Comic Con was overwhelming and not for the faint hearted, but also one of the most unique experiences of geekdom I've ever had. After taking a week to recover I wanted share a few highs and lows, insights and lessons learned from a first time SDCC attendee. 
1. The children are the future.
After snapping a photo of a kid in a Tonto costume I fell into a discussion with the friends I was with over whether or not it was an appropriate costume for an eight or nine year old. They argued that you can't blame a parent for allowing a child to dress as a character they admire. I pointed out that if it were my kid they wouldn't have dressed as Tonto in the first place. I would have used the, "Can I dress as Tonto for Comic Con?" request as a teachable moment– a teachable moment that would have started before we walked into the theatre. Perhaps it sounds harsh, but isn't teaching your kids right and wrong the point of being a parent, even if you do have to simplify a bit for age? The outlook for the next generation of geeks won't  be particularly bright if parents of all races can't begin having these conversations with their children.
On the other hand, there were redeeming moments over the four days. I spent a good deal of time talking to children for a BleedingCool.com project, and I was impressed by how many tiny Spider-Man cosplayers were aware of Miles Morales' existence despite not being able to easily find appropriate costumes, and how many young girls were fully versed in Wonder Woman's origin and backstory despite not having an abundance of TV or film media to go to– but more on that later.
Even Lil' Gotham artist Dustin Nguyen couldn't resist the lure of adorable con kids:
"my favorite experience-hands down- in San Diego this year was a 3 year old visiting my table, she could read like 3 words give or take, but explained to me exactly what happened in our New Year's issue of Batman: Lil Gotham, panel by panel. Hooray for teamwork indeed. she told me i drew funny lollipops."
Finally, not only were kids walking the floor, but I saw one or two venturing into panels not necessarily geared towards their age group (like the surprisingly huge line for Monster High). Obviously they were headed in because that's where their parents wanted to be, but that doesn't change the fact that they were still going to have some knowledge dropped their way.
2. It's possible to feel safe(ish) at a huge convention.
While SDCC does have a zero tolerance policy on harassment of any kind towards anyone, it has not always been the perfect experience for everyone in past years.
2013 will be my fourth year attending New York Comic Con while this was my first time at SDCC. Any harassment that I've received at cons in the past has been solely cosplay and body related; usually catcalls, inappropriate comments, touching, and the like. Despite living and working in NYC, I somehow felt safer at the San Diego con. Part of this has to do purely with location.
NYCC takes over the Javits Center, located so far west in midtown that it's practically in New Jersey. The walk to and from the nearest subway is a long one and, unlike San Diego, the con isn't an event that envelopes the entire city. The crowds from NYCC dissipate very quickly once you leave the convention center, which can make things awkward for the lone cosplay wanderer. Between the actual sense of city-wide community at the con, and the fact that I wasn't subjected to con or street harassment in costume (or out at night) once, San Diego was a much better experience for me in that regard.
But we know from others' experiences, that it wasn't perfect…
3. Even in geek revelry, we seem to take one step back for every two forward.
I chose to sleep on the hardwood floor of my hotel room rather than the concrete outside of the convention center, so I didn't get to see the Women Who Kick Ass Panel in Hall H. It sounded pretty great, featured three women of color, and was also moderated by a woman. I was sorry to have missed it. Unfortunately, the experience didn't run as smoothly for everyone sitting in the audience. From the Racebending Tumblr:
For the most part, the dudes I'm sitting near either pay respectful attention or check Twitter, though there are some jokes from an older guy in front of me about how stupid he finds all of this. Then Rodriguez uses the phrase "destructive male culture" — as part of a larger answer about how women need to take more agency in telling their own stories — and something in the crowd flips. A certain subset of the audience begins to get more and more vocal, and when the panel runs slightly over, as all panels have done during the day, the vocalizations begin to get easier to hear, even to someone sitting clear across a giant room in a place that tends to eat sound from specific individuals in the audience; one really has to make a ruckus to be heard.

…

When Rodriguez grabs the microphone again to follow up on a point made by another panelist, for the first time, the audience ripples with something close to jeering anger. When the panel finally ends and the five women on it proceed off to the side for photographs, something done at the end of most Hall H panels, someone shouts something from the audience, to a mixture of supportive laughs and horrified gasps, and the women quickly leave the stage. (I was not sitting close enough to hear what was said, but I confirmed with several people sitting in the immediate vicinity that it was a young man shouting "Women who talk too much!" after the loudspeaker asked attendees to voice their appreciation for the participants in the "Women Who Kick Ass" panel.)

It's an ugly moment, an unfortunate capper to a great session, to be followed by many of the guys sitting around me offering up tired lines like "I hope they feel empowered now!" and several recitations of the Twilight mantra about ruining the Con.
So the lack of usual cosplay harassment that I found may have only been because all of the gross misogynist types were stuck in Hall H all day.
Speaking of the patriarchal society, how 'bout those Reboot!Batman/Superman and The Flash flicks we're getting before a Wonder Woman movie? If DC's plan is to turn me into a Wonder Woman fanatic by continuing to shaft her on screen then it's totally working. I think it was especially disheartening to hear it this time, because with very few exceptions every little girl I talked to on the con floor responded with a confident answer of, "Wonder Woman," when they were asked what the next superhero film should be.
Anthony Mackie (who's playing Falcon in Captain America: Winter Soldier) agrees with them:
For Mackie, the joy of playing this role is getting to be an idol for those children who look up to Marvel's superheroes.

"It wasn't so much a burden as it was a blessing," Mackie says of getting the role. "I feel like there's a huge segment of our population that's being neglected as far as having people to look up to and having role models to look up to, and I'm really looking forward to next Halloween seeing bunch of little kids running around with wings on."

He adds, "That's why I feel like I hope they make Wonder Woman one day. I hope they bring back these cartoons that little girls and other little kids can look up to and see themselves in that person. It's very important. So being able to play Falcon was a huge coup de gras for me."
DC still wants to release their JLA film, but it's been pushed to 2017. With no mention of a Wonder Woman film or another TV pilot (the CW's show, Amazon, is still in development hell), one can only assume that that's the first place we'd have the opportunity to see her. Diana's story is apparently too "complicated" to bring to the big screen. Given that we're coming up on Thor movie number 2, scripting a superhero with an origin based in myth doesn't seem overly complicated to me. (Of course, neither did making a good Lone Ranger movie.)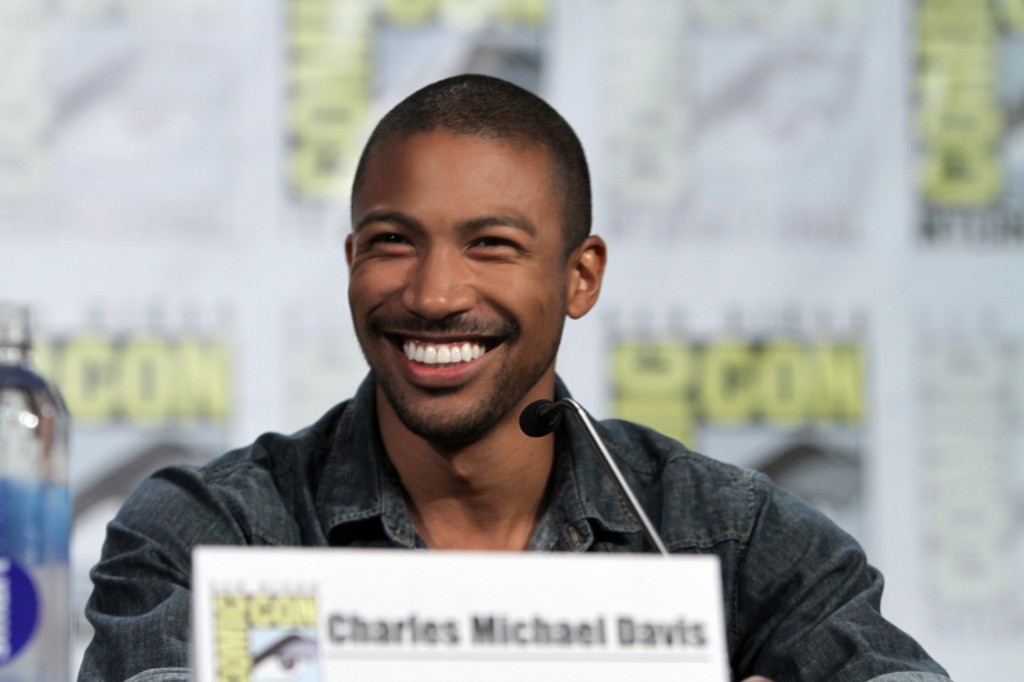 Over in the world of TV it was the same mix of sudden elation followed by sighs of disappointment. You'll remember that I was excited about the potential of the new CW show The Originals, mostly because of the African-American vampire character Marcel. At the show's debut panel I was pleased to learn that his background will be thoroughly explored through several flashbacks throughout the season. Essentially this means that they can't ignore the background of slavery that was hinted at before. The question is whether or not Julie Plec and co. will handle it well.
Things are looking a little more grim for the chromatic cast over on my other favorite teen supernatural drama, Teen Wolf. While two of the Black characters have been revealed to be traditional supernatural 'aids' to the show's werewolves (ie. Magical Negroes,much like Bonnie over on The Vampire Diaries), the other prominent Black character is, well, dead. I had the chance to ask the show's executive producer and writer, Jeff Davis, about the decision to kill Boyd.
Q. "What went into the decision to kill Boyd off last week?"

A. "A lot of things— partially I think it was good for the story, it was good for— certain things that had to happen. To be honest we had an entire different arc planned out but Gage Golightly [Erika] and her reps, they wanted to go for pilots and a lot of Boyd's character was tied into Erika. we had this big, whole different arc planned out for 3A and then at the last minute we find out, "oh crap, she's not coming back, we gotta change a lot of things." That came about because of certain— sometimes you lose actors. But I think his death scene was really great and actually kind of— it's actually gonna be a big impact and make waves for other characters. Would I have liked to be able to explore more with certain characters? Yeah, absolutely, but it was nice to get Gage Golightly back for another day to fill in that scene that comes within Boyd's scene to connect those two characters.
Boyd's character was never particularly well developed, and Davis' answer provides some insight as to why that was– even if it's not particularly satisfying insight. I'd suspected that Davis had very little independent development planned for Boyd from the beginning, and it seems that I was right. I can't say that I'm thrilled to have called the execution of the Magical Negro trope to a tee either, but here we have it. Thank goodness I'm not really watching this show for the plot.
My final TV note is a thought I had while coming to the painful realisation that I wasn't going to get into Hall H for the Sons of Anarchy panel: I've decided that if shows like Sons and Breaking Bad can have SDCC panels despite having absolutely nothing to do with comics, fantasy, or science-fiction, I'm officially starting a campaign to get Scandal in there next year. Let's be real, watching Scandal takes 10 times the amount of suspension of belief than The Walking Dead. You know I'm not wrong.
And two lessons of practicality…
4. "Everybody ends up at the Hyatt."
Our first night in San Diego we were informed that at the end of the night, when parties other activities have wound down, most comic book industry types end up at the bar in the lobby of the Hyatt Hotel.
Have your business cards ready. Networking at SDCC is key, and it's entirely possible to do. Whether it's approaching someone after a panel, chatting someone up they're waiting in a seemingly endless line to get into a screening of The World's End, or showing up at the Hyatt bar at midnight, there are several opportunities to make valuable connections at SDCC. Of course, then comes making sure that you keep the line of communication open once you've left the con. Don't forget to email everyone you meet, and even if you don't get the chance to shake hands consider sending off a note to let a panelist know how much you enjoyed listening to them speak!
We also discovered that chances to network would have been improved by staying at a hotel closer to all the action, which brings us to our next point:
5. Cons are expensive.
Because I don't even want to begin to talk about the total amount of money I spent over the course of 4 days, this is where I take a moment to highlight the wonderful Con or Bust run by the Carl Brandon Society.
Con or Bust helps people of color/non-white people attend SFF conventions (how to request assistance). It is administered by Kate Nepveu under the umbrella of the Carl Brandon Society, a 501(c)(3) not-for-profit organization whose mission is to increase racial and ethnic diversity in the production of and audience for speculative fiction. Con or Bust isn't a scholarship and isn't limited by geography, type of con-goer, or con; its goal is simply to help fans of color go to SFF cons and be their own awesome selves.

Con or Bust began as a response to RaceFail '09, when people of color expressed the desire to help each other attend WisCon (a prominent feminist SFF convention). We ran an auction and took donations, and through the generosity, hard work, and good will of a lot of people, raised enough money to help nine fans of color attend WisCon (2009 final report). Subsequently, the Carl Brandon Society agreed to take over the financial management of Con or Bust, allowing it to become an ongoing project.
Con or Bust attempts to provide both monetary assistance and/or free passes for particular cons for those who would like to attend. I highly suggest checking out their page if you've been held back from con attendance because you can't afford it!