By Kendra James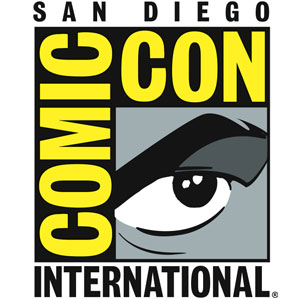 Well, it's that time of year again!
Under the cut you'll find the panels and presentations for Thursday and Friday at San Diego Comic Con 2013. Arturo and I will be live-tweeting panels throughout the four days (follow the official Racialicious account @Racialicious, Art @aboynamedart, and myself @wriglied to stay on top of things), and providing wrap ups and pictures afterwards. Asterisked events indicate things we're definitely planning on attending, while the others are recommendations that just look interesting or fun.
If you're just planning on wandering around and you happen to see either of us don't hesitate to say hello! For my part, I'll be the exhausted looking Black girl dressed as either a Captain America USO girl, a Teen Wolf lacrosse player, Maxine from Batman Beyond, or Indiana Jones.
Let us know in the comments if you have questions for specific panels via the comments, and stay tuned for Saturday and Sunday programming coming later today.
Thursday:
*The Witty Women of Steampunk: (11AM, room 5AB); Robin Blackburn (The League of S.T.E.A.M.), Anina Bennett (Boilerplate: History's Mechanical Marvel), Kaja Foglio (Girl Genius), Racialicious Guest Contributor Jaymee Goh (Silver Goggles), Claire Hummel(Bioshock: Infinite), and moderator Dina Kampmeyer (LadySteam) discuss literature, fashion, romance, adventure, multiculturalism, and more.
DC Entertainment: All Access: (11:30AM, room 6DE); Panelists discussing the future of several DC books include  Adam Hughes,  Geoff Johns(Aquaman, Justice League, Justice League of America), and Gail Simone (Batgirl, The Movement), among others. You'll want to note that this panel is pretty darn white (which, well, kind of reflects comics in general), and if you don't feel like standing in line you may be better off reading the recaps on sites like Comics Alliance or Bleeding Cool later in the day.
Insights for Independent Creators: (1:00PM, room 9);
Digital Development and Marketing Your Comic: (1:30PM, room 8);
The Writer's Journey: Breaking into Hollywood and Comic Scriptwriting: (2:00PM, room 9)
A good deal of comments that we (and other racially critical entertainment sites, for that matter) get preach a similar philosophy: If we want diversity in media we have to create our own media! These panels might be a good first step. The 2pm panel include Racialicious friend and contributor Erika Alexander!
*Gender In Comics Books: (2:00PM; room 28DE); I'll be attending this one with caution and a tenuously open mind. When it comes down to it, this seems to be a panel featuring mostly white women speaking on gender. If that's the case, I'm genuinely a little surprised that whoever put this together allowed that to happen. Panelists include Ball State University professor Christina Blanch, Alexa Dickman (Ladies Making Comics), Grace Randolph (Supurbia), Disney editor Janelle Asselin, BOOM! Studios editors Shannon Watters and Dafna Pleban, and Archaia editor Rebecca Taylor.
*Entertainment Weekly's Brave New Warriors: (4:45PM, Ballroom 20); If you want to see Tyler Posey, but you want to avoid everything else involving Teen Wolf (ie, the Sterek fans) this one's for you. Steven Yeun (The Walking Dead), David Giuntoli (Grimm), Matt Smith (Doctor Who), Kit Harington (Game of Thrones), will also be in attendance.
*Teen Wolf: (6:00PM, Ballroom 20); If you don't mind the cloying Sterek fans then this is the Teen Wolf centric panel you'll want. Tyler Posey will be here too, but co-stars Keahu Kahuanui, Sinqua Walls, Bianca Lawson, and Seth Gilliam (ie, ⅘ of the main POCs on the show) are missing from the group. However, if you're looking for the opportunity ask Jeff Davis whether killing off Boyd was really so much easier than, you know, giving him a fully developed storyline, then I'll see you there.
Celebrity Sightings:
USA Network's Psych: (1:00PM, Ballroom 20); James Roday (Shawn Spencer), Dulé Hill (Burton "Gus" Guster)
Entertainment Weekly's The Visionaries: (2:30pm, Hall H); Alfonso Cuarón (Gravity, Harry Potter and the Prisoner of Azkaban)
Murder Police: (3:00PM, Room 25ABC); Jason Ruiz, Chi McBride (Golden Boy, Hawthorne, Human Target), Peter Atencio (Key and Peele), and Justina Machado (Welcome to the Family, Private Practice, Six Feet Under).
The Sidekick: (3:00PM; Indigo Room Hilton San Diego Bayfront); Jordan Peele (Key and Peele)
Comic Con: Anything Goes: (5:00PM, Indigo Room Hilton San Diego Bayfront); John Barrowman (Arrow, Torchwood, Doctor Who, Sing Your Face Off)
Friday:
*The 2013 Black Panel: (10:00AM, room 5AB); With  Wayne Brady (The Wayne Brady Show, Let's Make a Deal, Chappelle's Show), Orlando Jones (Sleepy Hollow, Tainted Love, Black Dynamite), Tatiana El-Khouri (Dark Girls, The Milestones Show), John Jenning (BLACK COMIX, Octavia Butler's Kindred), Tony Rich (The Tony Rich Project, The Hidden Beach), and David Walker (Bad Azz MoFo, Super Justice Force) this is certainly going to be an interesting Black Panel this year.
*Writing For TV: From First Draft To Getting Staffed (10:30AM, room 24ABC); Spiro Skentzos (Grimm), Karen Horne (NBC executive/Spawn co-producer), Keto Shimizu (Arrow), and Jane Espenson (Husbands) are on this wonderfully diverse panel about getting your start in TV Writing.
*Milestone: The 20th Anniversary Panel: (11:30AM, room 5AB); Join Comic-Con special guests Denys Cowan, Derek Dingle, Michael Davis, and a surprise guest or two at the 20th anniversary celebration of the company that changed the rules forever, Milestone Media. Moderated by Django Unchained producer Reginald Hudlin.
Marvel: Ultimate Universe: (12:30PM, room 6DE); Same caveat as Thursday's DC panel. Even though we're sure to get some cool Miles Morales news out of this, you may just want to wait and read the recaps online.
*Marvel's Agents of SHIELD on ABC: (1:45PM, ballroom 20); Jeph Loeb (Marvel's head of television), Joss Whedon (Marvel's The Avengers) are finally going to answer a few questions about the new fall show. Maybe we'll finally find out who the heck J August Richards is playing? Maybe someone will have the chance to ask whether Misty and Colleen will have a shot at making onto a small screen? We'll see
Game of Thrones: (2:50PM, Hall H); The fact that Elvis Mitchell is moderating this almost makes me want to wait in line. As is the chance to ask about the rest of the Martel casting for Season 4, which has already started off with a controversial bang. Otherwise, this is your typical TV panel featuring the full (adult) cast of the show.
*US Pop Culture Abroad: (3:00PM, room 29A); This panel examining how American popular culture is consumed internationally includes panelists Cesare Asaro (creator, Finding Frank and His Friend), Harold Buchholz (senior VP, publishing and operations, Archie Comic Publications, Inc.), Adam B. Finer (chair of industry outreach and professional development, New York Film Academy),Rich Johnston (Bleeding Cool), and Kirstie Shepherd (author, Gadabout Time Machine User's Manual).
The Following: (3:15PM, Ballroom 20); So, here's the thing: I just unabashedly love this horrible, horrible show and want everyone to be as into it as I am. Also, Kevin Williamson, who will be in attendance, gets props for being the less racially problematic show runner of my other favorite show, The Vampire Diaries. The devil you know, right?
*Sleepy Hollow: (3:30PM, room 6A); Nicole Beharie will be on hand for the panel for the new FOX show, and while they won't actually be there, keep in mind that Orlando Jones and John Cho round out the Chromatic leads this fall!
All Shapes And Sizes Welcome: Body Image and Women's Issues in Entertainment: (7:00PM, room 32AB); A diverse panel featuring seven actresses, models, writers, and entrepreneurs discussing body image in media.
Showcasing the Best in Korean Comics, Animation, and its Influence in Today's Hottest Comics: (8:00PM, room 32AB); Another international panel, this time focusing on Korean influences in comics and media.
Celebrity Sightings
Nickelodeon's The Legend of Korra Returns: (11:15AM, Ballroom 20);
Nikita: (11:30AM, room 6BCF); Maggie Q (Mission: Impossible 3)
Archer: (5:00PM, Indigo Room San Diego Hilton Bayfront); Aisha Tyler (The Talk)
TV Guide Magazine: Fan Favorites: (5:15PM, Ballroom 20); Henry Ian Cusick (The 100), Giancarlo Esposito (Revolution), Danai Gurira (The Walking Dead), Blair Underwood (Ironside) and others.