By Joseph Lamour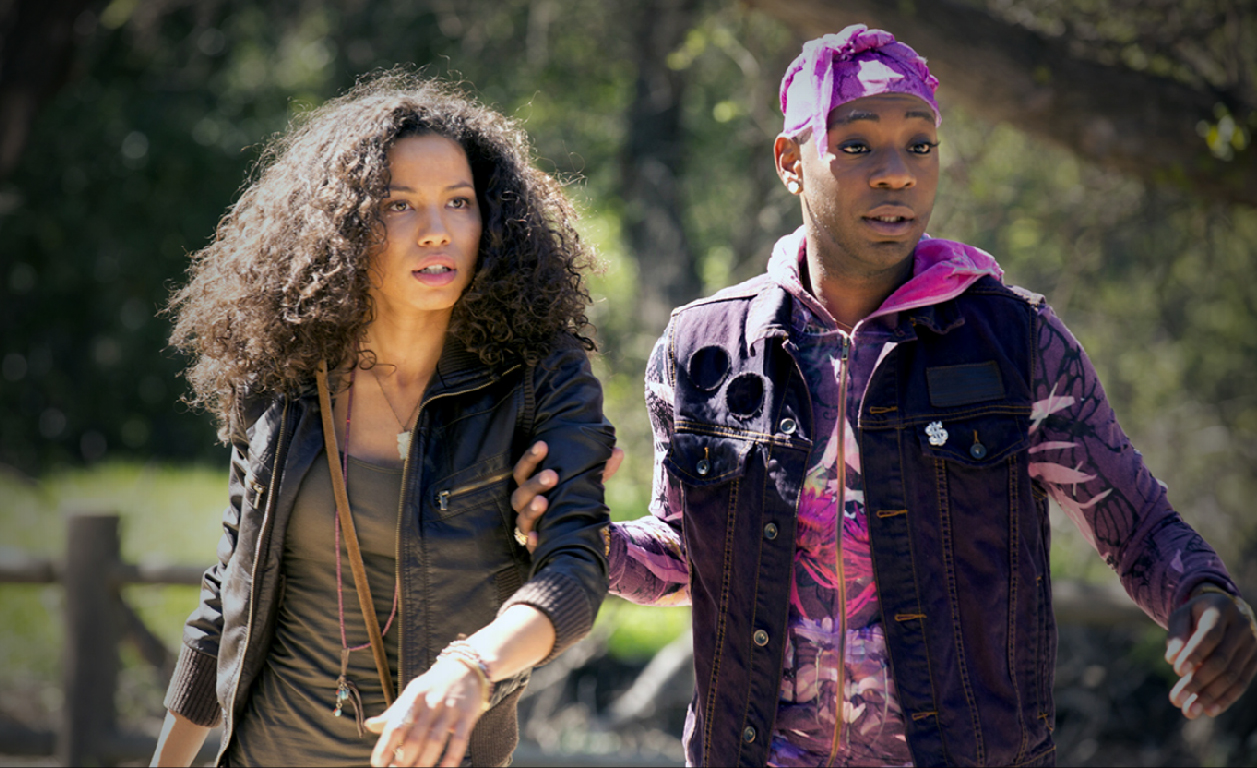 The recap for True Blood 6.4 "At Last" is under the cut!
We start off with Jason unconscious on the floor after getting knocked around by Billith, and while Sookie runs off to call 911 and Niall is off doing whatever skittish Fae kings do, Ben provides us with a new development: he exposes his fangs (!!) and gives Jason his blood. Plot twist! Ben is a faerie vampire. Most likely, he's also Warlow. Is it just me or should someone like Ben/Warlow be more scary? Cause he isn't.
With Jason all hopped up on Ben's V (faerie flavor!), the TB gods give us flashbacks to the days where Jason was always some flavor of naked doing something, or someone was having a homoerotic dream about someone. Elsewhere in the house, however, Sookie goes to clean up the mess of the previous evening and finds a few droplets of blood on the floor. A testament to the new show runner: Sookie figures out that Ben is a vampire (in the very same episode), and sets forth on a plan.
Meanwhile, the Bellefleur Faesome Foursome have aged again, into rambunctious teens, and man how quickly these girls grow up: their first night out, they steal a car, get drunk, seduce a bad boy (Bill counts, right?), and then they're maybe murdered by Jessica. Bummer.
We find out some interesting True Blood science, thanks to the Compton's resident captured professor in the basement: there's something living in faeries that produces the magical properties they and their blood hold. I have a grim premonition that one of the Bellefleur girls will be the victim of an alien autopsy in the next episode.
Ben turns up at Sookie's house for a romantic meal. He shows up late because, well, he was busy almost murdering her grandfather. She prepared his food with colloidal silver (am I the only one who didn't know that colloidal silver is an actual thing you can go out and buy?) and he eats the poisoned meal with no effect. Weird.
After dinner, things appear to be getting steamy between Ben and Sookie, and I was all ready to roll my eyes, when she tells Warlow to get off her as she has a light ball ready to blow him up. Good on ya, girl.
And Furthermore…
I feel like True Blood is writing their own rules for everything at this point. "Bill can't be staked!" "He can't walk into the sun, though!" "This Ben guy can walk in sunlight, though!" "Ben can eat silver!" WTF, right?
Is it just me, or does it feel like the casting agents in the Sam storyline said to themselves "Out with the old caramel beauty, in with the new!" Also, isn't Nicole Wright (Jurnee Smollett-Bell) still mourning the passing of her recently mauled boyfriend from less than 12 hours ago? True Blood, seriously, a single shot of whisky doesn't speed up time. And I don't care how hot Sam is; Nicole's leg was almost torn off. Being intimate that way? Uncomfortable, at best.
The whole turning storyline of Eric and Willa was… well it started off great, and it had all the hallmarks of vampire romance: the maiden in white, the vampire in black, the seduction. It was pretty hot, I have to admit. But then right after her vamping, with no preparation, he sends her back to her father. Eric is not much for actually telling people what they should watch out for.
Truman Burrell saying "Watch the sky! That peckerwood's gonna try to fly out." Fun fact: peckerwood is a racial slur — for white people. It's also what male white supremacists used to refer to each other.
Sarah Newlin and Truman Burrell are dating. Of course.
The way Ben/Warlow emptied Niall of his blood into a hotel bathtub was pretty much super gross. I'm glad he didn't kill him though, and instead, tossed him into that realm characters go when they need to be conveniently out of a story for a while.
One more glamoring and Jason is going to be as loopy as Crystal. Maybe they should get together. I'm surprised that hasn't happened yet.
Speaking of Jason. Let's talk Niall and Warlow. They both seem to care about Sookie, but it appears only Warlow cares about Jason. Do we maybe have the villain and the hero switched here?