By Joseph Lamour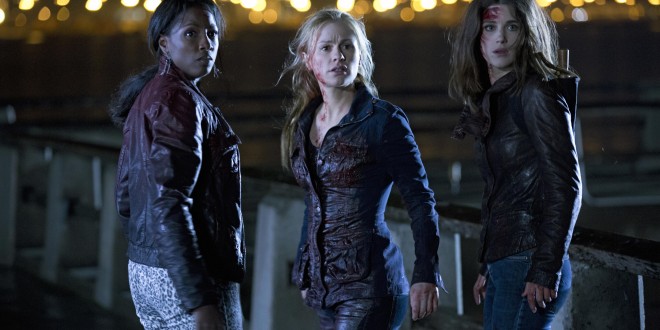 Last season on True Blood: chaos! This season on True Blood: chaos!
The Walking Dead is off for the summer, and Racialicious needs its fix of Sci-Fi fantasy well stocked with hot people and questionable plot lines, so here we are. This year our Sookie coverage will be two-headed: a recap on Monday, and a True Blood roundtable featuring deeper discussion at the end of the week. Without further ado, let's dive in.
The recap (positively filled with SPOILERS) for True Blood 6.1 "Who Are You, Really?" is under the cut!

When we left our merry band of misfits last season, Bill had just reunified after melting into a pile of goo. The episode opens with Eric and Sookie running away from Bill, who just stands there till they get far enough away, I guess? Maybe the pile of Old Bill he was standing in was sticky. After a tense (not really) moment in the elevator where Sookie uses her powers like I use my iPhone during a blackout, they make it out of the building and meet up with the others (Pam, Tara, Jason, and Nora). As they all drive away from the now exploding Vampire Authority building, Bill Compton emerges, does his best Carrie impression, and then disappears into the sky.
Meanwhile, Sam and Emma escape with a weakened Luna, but then she dies in the most anticlimactic way ever. Was it just me, or was it like "Oh hey Luna! You seem sick… oops! Now you're dead. Okay, bye!"?
While driving, we hear that there is an edict in effect in Louisiana for vampires. They aren't allowed to go outside? This plan is surely going to go well for everyone involved.
We see rather quickly after their introduction that Pam and Nora don't get along. Pam also didn't know Nora existed, which begs the question: What do vampires do when they're not eating, getting it on, or running away from blood-covered demigods? Do they not have conversations? Did Pam and Eric just stare at each other for 100 years? The sister revelation hits Pam hard, so Tara sits down with her and they share a touching moment, talking about love and family on the sand… in Louisiana? Where was that Vampire Authority building anyway? Dare I say these two seem well matched? I mean if I forget that Pam is racist. Regardless, I think its time for a couple name, cause they're not breaking up anytime soon I bet. Para? Tam? Patara? Tarp?
Eric: Who the fuck is Warlow?
Jason pulls a gun on Nora after they trade information on what they both know about Warlow, which is nothing, basically. Sookie stands in front of her so her brother doesn't kill Nora for not answering a question to his liking. As a result, Jason has some harsh words for his sister — in fact, he disowns her and runs away. The writers are really upping Jason's local yokel shtick. I mean he was adjacent to the stereotype before but now… sigh. I miss his candy-land-vampire-blood-fantasy sex romps. How things change.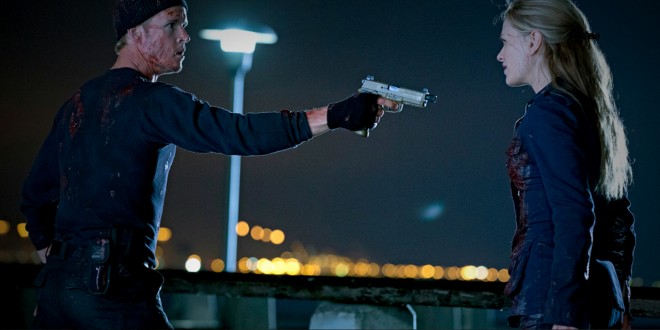 Bill summons Jessica, and since he has superpowers now, the summoning almost kills her. I feel like recording a "Leave Britney alone" YouTube video for this poor lady. I mean. Will she ever get a BREAK?!? Eric tries to stop her but Super Bill is too strong. Sookie goes with her, though, because she is the main character of this show — or she cares about Jessica, I guess.
Apparently after melting, reconfiguring, and flying naked from a burning building, Bill just went home and took a shower. Sookie and Jessica tiptoe through the Compton household, and find Bill on the porch.  Eric and Sookie both try to kill him because unfamiliar things are scary. Then, they discover a stake can't kill Super Bill. Oh, great.
After everyone banishes everyone from everywhere (Bill and Jessica send everyone home, Sookie rescinds Eric's welcome after he gives her his house) Jessica and Bill share a heart to heart. Was that scene supposed to be awkward? Because it was. What made it even more awkward was the revelation that Bill has telekinesis now. I wonder what other powers he has — certainly not the power to keep anyone around him at ease.
And Furthermore…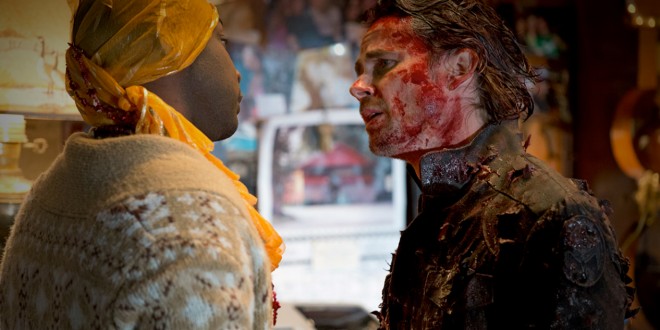 Lafayette! I thought this episode would lack your delightful repartee. It looks like he'll be the caretaker of Merlotte's* while Sam is on the run with Emma — why they're running, I'm not sure. Russell is dead. Is Martha Bozeman really that bad?
Why in the world would the Governor Truman Burrell (Arliss Howard) hold a press conference at night while talking about denying the rights of an entire species of people that are only awake at night and can rip you in half? And, to the protestor who throws a blood-filled balloon at the Governor of Louisiana: aren't people running short on that stuff? Wouldn't a red glitter bomb be more judicious and fabulous? Later in the episode, he offers True Blood executive Ms. Suzuki (Tamlyn Tomita) a partnership in the form of a defunct iced tea factory. He is a complete and utter liar and he's obviously going to taint the supply that comes from that factory and I can see this comin from a mile away, so why cant Ms. Suzuki?
Arlene and Andy share a Full House moment on parenting his four faebies. Then they turn into toddler quadruplets overnight. This is going to be a fun plot. Comic relief FTW!
Alcide is now the pack master, and he ate an arm. This whole wolf storyline is a yawn sandwich to me. Is it just me? And who wrote all the wolf stuff this episode? Was it a 14-year-old? Or someone who only watches Game of Thrones for the brothel scenes?
I immediately knew that the guy who picked Jason up was Warlow (Rutger Hauer, who also played a vamp in Buffy The Vampire Slayer). Of course Jason doesn't realize this until he's alone in the passenger side of a Volvo careening into a tree. Also: Is Jason schizophrenic? Or are his parental visions magic at play? And if he realizes that his ghost parents have gotten "racist and scary" why hasn't he noticed those traits in himself?
* My iPad keeps correcting "Merlotte's" to "merlot yes". I think True Blood is driving my Apple product to drink.