By Kendra James
Upfronts are done, premiere schedules are set; Stefon and Seth ran off into the sunset; and, even though it's only May, it feels like we're already halfway through the summer blockbuster set list…so what's a pop culture junkie to do?  I humbly suggest using this hiatus season to catch up on a few British shows you may have missed while our gladiators were white-hatting.
At no more than six episodes per season, I promise you'll be done before Olivia Pope's return. Just give us a moment to close our eyes and turn around, so we don't have to witness whatever it is you have to do to get your hands on the four shows underneath the cut.
"Some Girls is about the lives and loves of a group of quirky 16-year-old girls who play on the same school football team and live on the same inner city estate. We join them on their bumpy journey through adolescence, taking in boys, sex, cliques, teachers, heartbreak, fun and even some football along the way."
Adelayo Adedayo, Mandeep Dhillon, Alice Felgate, and Natasha Jones star as Viva, Saz, Amber, and Holli in the first season of Some Girls. a.k.a. the show I started watching after Joe and I realised there was no way  we were getting through that second season of Girls. So I chose another series written and created by a woman that aimed to really dig into the truths of female friendship, but managed to do so through the voice of a teenage Black girl. The show's premise sounds fairly basic, but what makes Some Girls unique –along with often being laugh-out-loud hilarious– is the diverse main cast that aren't pigeonholed into stereotypical roles and the near-exclusive use of interracial relationships in both the teen and adult couples featured. 
The BBC 3 comedy aired in the UK back in November of 2012. A second series was announced at the finale's ending–so, yes, this is a show worth getting invested in. You won't be left disappointed.
Watch If You Like: Girls, The Inbetweeners (UK), Awkward.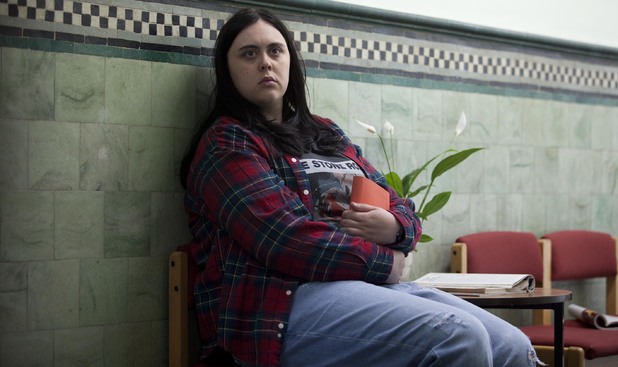 "Set in the mid-90s at the height of Cool Britannia, My Mad Fat Diary is based on Rae Earl's real-life diaries. It takes a hilarious and honest look at teenage life through the eyes of Rae, a funny, music-mad 16 year old who, despite an eccentric mother, body image and mental health issues, has a huge lust for life, love and trying to get laid."
My love for this show is completely WBEZ blogger Britt Julious' fault. She writes of the E4 show: "My Mad Fat Diary is a near-perfect depiction of what it's like to be a teenage girl: It is embarrassing and public and rarely dainty. In one fantasy scene, Rae (Sharon Rooney) stands in front of a mirror, unzips her body, and steps out of it, as if what was hidden underneath was her "true" self and this skin was someone else. "I am a body dismorphic without the dismorphic. I am a bulimic without the sick. I am fat," said Rae. This scene, so raw, left me speechless.
And that just about sums it up. My Mad Fat Diary is featured here not because of its commitment to diversity or spectacular dealings with race, but because Rae is not your average small-town network television girl and that makes her more relatable than anyone the CW's ever thrown at me. She and her friends are dealing with topics like body dysmorphia, eating disorders, suicide, teen pregnancy, being in therapy, absent parents, experimenting with sexuality, and more. Without the typical gloss of a Hollywood set, actors who clearly look older than the high school students they're playing, or a veil of the supernatural as distraction, the audience is actually forced to acknowledge common teen problems rather than seeing them as a plot device. We don't have enough of that on television.
Watch If You Like: My So Called Life, Boy Meets World, Heavy.
"Dancing on the Edge is set in the early 1930s and follows black jazz musicians, the Louis Lester Band, as they find fame amongst the parties and performances of London's upper class society."
The advertising for Dancing on the Edge relied heavily on featured performances from Angel Coulby and Wunmi Mosaku, along with Chiwetel Ejiofor, so, without giving too much away, I was expecting more of the plot to focus around the trio. Dancing on the Edge features a huge ensemble cast, including Anthony Head and John Goodman, and focuses mainly on the relationships of Ejiofor's Louis Lester with the white characters around him. "Can Louis trust his white friends?" seems to be the main question creator Stefan Poilakoff wants viewers to consider as they watch.
The show chronicles the rise of the Louis Lester Band and their two singers through their integration of London's Imperial Hotel. Race-wise you're getting a little bit of everything here: there's a quick primer in basic racism (hotel patrons who won't listen to "negro music"), followed by slightly more advanced racism (visiting Nazi diplomats are absolutely aghast at the band's presence), a peek into unfair immigration policies in 1930s Britain and, of course, some scandalous Black/White romance. While Dancing on the Edge hasn't been the BBC 2's strongest offering this year, one could almost say that the show is an answer to everything you're not getting over on ITV's Downton Abbey.  It's worth watching, especially if you're still in a haze of music and period clothing after seeing Luhrmann's The Great Gatsby, but you're looking for something a touch more down-to-earth. This is going to be the perfect miniseries for you.
Watch If You Like: Downton Abbey, Nashville, Boardwalk Empire.
"Crime drama series starring Idris Elba (The Wire) as Luther, a near-genius murder detective whose brilliant mind can't always save him from the dangerous violence of his passions."
I've only just started series 2 of Luther, so I'm not going to say much (and I'm going to stay the heck away from the comments below), but here're the basics: Idris Elba (and his shoulders) plays John Luther, a London police officer with an explosive temper and a knack for solving disturbing homicides in unconventional ways. Along the way we meet Alice (Ruth Wilson), the sociopathic Bonnie to his reluctant Clyde, who seems determined to bring out the worst in him. It's like if Criminal Minds had some sort of actual plot.
This show isn't exactly a hidden gem– the fans have been loyal since the first series, and it's even been shown on BBC America. That said, I can only assume there are others like myself out there who've been depriving themselves from a fantastic experience because its future was up in the air. Luckily, that's no longer an excuse. Luther returns to the BBC for series 3 this summer, and series 1-2 are waiting for you on Netflix.
 Watch If You Like: Elementary, Breaking Bad, Criminal Minds, Idris Elba.