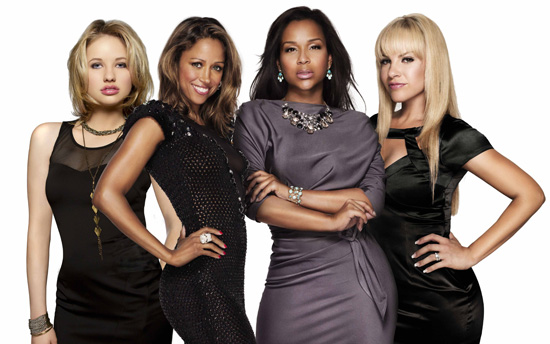 The dearth of good scripted shows with leads of color should be a concern on multiple fronts. While representation in front of the camera is important, all the jobs that occur behind the scenes (like writers, showrunners, camera staff, and crew) also are in desperate need of diversification. So, when I can, I like to give scripted shows a longer shot to impress me. I waited out all of Undercovers with no reward – so it was refreshing to see Single Ladies overcome an underwhelming pilot and come into its own early in the season. The show was just renewed for a second season, so Kendra Pettis and I decided to chat about why we keep tuning in on Monday nights.
Latoya: So first things first – Kendra, how did you get into Single Ladies? For me, it's one of those times when my inner twelve year old made the decision. Just like I couldn't not watch Mel B running around on It's a Scary World, as soon as they said "series" and "Stacy Dash" I was there. And then they said Queen Latifah producing, and it's a story about female friends, so I stayed.
Kendra: I'll admit, it was the Stacy Dash x-factor me too. I was judging this show hard before it premiered, convincing myself that it couldn't possibly be any good given the channel's history with with WOC — I Love New York, anyone?– and I wasn't even encouraged by the Queen's involvement. But I wanted to watch because I wanted Stacy Dash to work. When I finally sat down two weeks late and watched the premiere I was pleasantly surprised– both by the story and that DB Woodside was once again on my television screen.
Latoya: It's also an enormous relief after the 18 month media spree focusing on unloveable black women to see black women shown as both desireable and in control of their own dating destiny. Girlfriends can only hold us for so long.
Kendra: Desireable, in control, educated and manage to exist outside of the church. I'm pretty sure that religion has yet to play a significant part in their lives on the show, relationship related or otherwise. That's refreshing to see, given they stereotype I feel like I'm always seeing: a Black woman can't let a Sunday go by without going to church.
I like that both Keisha (LisaRaye) and Val (Stacy Dash) choose their men, and in Val's case, their women too. And they have each other's backs. Keisha wouldn't even let Val get a word in edgewise when Quinn (Timon Kyle) came courting, but I appreciate that her attitude doesn't come from a combative or angry place and that the show makes that obvious. Too often we get the angry or sass black woman character with no direction or reasoning behind the anger. They're only written that way because that's the media perception. Single Ladies gives us refreshingly filled out female characters.
On the Girlfriends note, it's nice to finally have a 'black show' that's not a sitcom. For someone like me who doesn't particularly enjoy sitcoms and laugh tracks, it's nice to have a straight hourlong drama (cheesey though it may be sometimes) that stars people of color. Before Undercovers, I feel like the last one might have been Kevin Hill? Ages ago!
Latoya: True – I also appreciate the lack of laugh track. I also think the cross racial friendships angle is fairly interesting. I really thought going into this that April (Charity Shea) was going to be the token white girl, but they've made sure to give each character her own plotline, backstory, and motivations. I feel like I know as much about April as I do about Val and Keisha.
Kendra: Poor April, we know too much about her, LOL. Still, I agree. Even as the token white girl she's allowed to have her own plotlines and she doesn't fall into the caricature of the white girl trying to 'act black'. Still she fits into their diverse world mostly seamlessly. I would maybe wonder, though, if Val and Keisha would fit into her world just as easily? Now that it's been renewed, maybe we'll be able to meet this grandmother and family we keep hearing about.
How do you feel about her husband? It's clever how they've turned my feelings on him. I was ready to hate April at the start for the cheating and dragging Val into it, but the writers turned it around quickly by really painting the husband into the sort of conniving, money greedy ex role that the scorned female usually falls into (we were warned constantly about these fabled women when I was working 5th Ave retail!). His actions definitely inspire sympathy for April (though you wonder why she didn't lawyer up earlier), to the point where I'm almost ready to forgive her for the infidelity.
Latoya: I loved Val confronting Darryl in the parking lot – she really called him out about how everyone was hurting and he was acting like a completely different person. However, as douchey as Darryl is acting, it was on the news. She did chose to cheat on him with the mayor of Atlanta, so…I guess I'd be that pissed too.
But since you brought up April and Darryl, I love how the show handles interracial dating. As I said in my earlier article, contrasting Single Ladies with Love Bites, they don't exist in a colorblind world, but race is one of many factors that they consider. A great many of the main love interests are black men (for all the women involved) but anytime someone wants to pursue something else, it just isn't that big of a deal. The last guy Val dated they cracked on because he was young, not because he was white. And when I tweeted about April's Something New moment, that's a serious question. Can a white woman who has always dated and expressed preferences for black men have a Something New moment while agreeing to date inside of her race?
Kendra: Sure she can, as soon as he stops climbing uninvited into her bed at night!
But, yes, as a white woman April can definitely have that experience. In Something New Sanaa Lathan and Simon Barker's characters were dealing with the newness of dating someone of a different race and the occasional challenges that arose because of it, but for Sanaa's character it was also eyeopening that even dating a white man was even a possibility. Just because April's white, the viewers shouldn't just assume that dating this white singer would be something she easily slips into. If she's never seriously dated a white man, then it's possible that she has just as much to discover as Sanaa and Simon did.
And I hope the show continues points that out. Interracial dating isn't a big deal, and it also shouldn't be assumed that those of the same race just fit easily together automatically in the dating world either. They've done a good job of showing that with Val and her various online dates.
Then there's Keisha and Malcolm (D.B. Woodside), which is so far the best developed relationship on the show, IMO.
Latoya: The Keisha/Malcolm thing is amazing. One, they are really well matched. And that revelation about Malcolm's background really helped pull them together. I hope they can make the season, especially with Woody pulling out his *ahem* Woody and hopping onto car hoods.
Kendra: I still wish they'd stretched out the mystery as to Malcolm's background a little more. It would have been good for an episode or two of suspense . But it does explain a little more why he forgave her so quickly after admitting her own criminal past.I'm also glad the revelation gave us the scene between Keisha and Val where Val asks her why, now that she has the key, she isn't over at Malcolm's house full time. Keisha essentially tells Val that having a key to his house doesn't mean Malcolm owns her or gets to know her comings and goings.
I've seen a lot of message board comments calling her a gold-digger (Malcolm's given her jewelry, a car, and now a key to the house), but Keisha doesn't seem to have any plans to settle back into a life of luxury. Like Malcolm she's going to keep working to earn her own living, whether that be through Val's shop or through her newly acquired real estate licence. She's no more a gold-digger than Carrie Bradshaw was.
Latoya: Ah, but see, Carrie hid her desires by not asking for them outright. But for real, what writer can afford that much shopping and that much going out? She wasn't making four dollars a word before Vogue. And you know her credit was jacked – they had a whole episode on that. Clearly, Mr. Big was also Mr. Benefactor – they just didn't make that super clear until the movies.
But, back to Single Ladies, despite the inevitable Sex and the City comparisons. (No, we aren't gonna compare them to Living Single, because that would just make me cry.) what do you think about Christina is such a hot mess. I love her spunk an attitude but damn – getting your visa messed up because you decided to bang the professor? Not a good look.
Kendra: Nope. On the one hand, it was her own choice and her own prerogative, which is a lot of what this show is about– independent women making their own choices. And you know, now that I think about it, they've all had to face consequences for their more unfortunate choices– aside from Val, who hasn't done anything too regrettable yet.
Latoya: True, Val's only real missteps have been letting Quinn jerk her around — and maybe not admitting to herself that her feelings for Aaron (Alexander Spector) were deeper than she believed. But what;s keeping me engaged these last few episodes is the growing relationship between Omar (Travis Winfrey) and Vincent (Wilson Cruz). Black queerness and relationships are a huge part of ATL dating culture – it would have been weird to leave him as a side note. And they pulled Wilson Cruz for the role – I still squee for Rickie Vasquez. I guess that gives me yet another reason to keep watching.