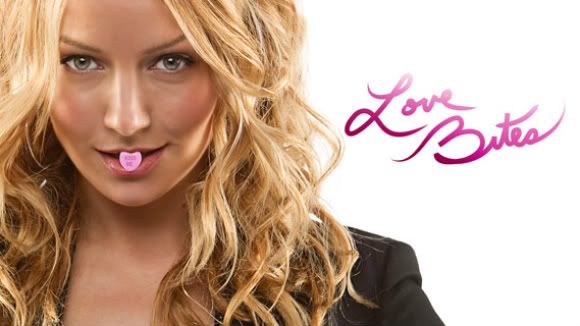 Is it more realistic to paint a world where interracial relationships don't matter at all, or one where race is just one of many issues?
In most projects that make it to both the large and small screen race is either the largest issue for the couple being portrayed, or it isn't mentioned at all. Two new shows spent the summer season exploring the tangled world of race and relationships: but where VH1's Single Ladies chose a racially aware way to present interracial relationships, Love Bites chose intentional color blindness…which ultimately reverted into the usual predominantly white cast with the occasional PoC best friends (and one foray with Donald Faizon).
Love Bites
pulled two million viewers last week as
of the last recorded numbers
– after
a disappointing premiere
Love Bites has limped along, able to be charming, but not much else. That's a shame, since Cindy Chupack (the show creator,
who dropped out as showrunner
) was one of the talented main writers behind
Sex and the City
. And a lot of the cast has already
moved on to other projects,
so the project appears doomed.
Worst, all of the turmoil kind of undermined the originality of the idea – to have an anthology style show on love and relationships featuring a rotating cast of characters. I think, with proper execution, the idea could have come off well – quite a few of the bits were really funny. And, overall, the series managed to consistently insert the cute "awww" moments, which are normally the reason people trek to the multiplex to watch yet another romcom. But one of the things that noticeably declined as the show went on was the diversity of the cast and crew. The earlier shows had Faizon as a player being taught a lesson, and an interracial gay couple working through problems, Lindsay Price as a woman trying to balance her vibrator and her husband, along with some other random friends of color. As the show slowly came to revolve around one couple and their friends and family, the diversity also quietly left, with the occasional best friend appearance or one night stand of color.
On that last one, we have a cringe worthy moment involving race, where a guy named Tommy tells his one night stand Stephanie not to worry about her father's heart attack because "blacks die of more heart attacks than Latinos." He then takes a call from his friends who asked if he banged "a Latino." Discussion ensues over whether "Latino" or "Latina" was the correct term. (Stephanie sits in the car, aghast at the whole exchange – later he tells her she took the fun out of "fiery Latina.") Yet she's the one who ends up apologizing and they end up together. So love conquers casual racism? The whole thing felt weird.
The show probably won't continue, but it would be interesting to see who made the dialogue decisions on the interracial relationship pieces. The show slid from non acknowledgment to ham-fisted stereotype trading, without much rhyme or reason.
Meanwhile, Over on VH1, Single Ladies is holding down their Monday night block.
Showrunner Stacy A. Littlejohn talks about the creation of the show and where the inspiration for the show came from.
The gamble has paid off – Single Ladies averages 3 million viewers a show and has been renewed for a second season. Apparently a lot of women were interested in the dating adventures of Val (Stacy Dash), Keisha (LisaRaye), and April (Charity Shea). Interestingly, the Single Ladies approach to interracial dating veers away from the norm in a couple of ways. First, and foremost, there hasn't been one of those "very special moments on race," that we've all come to loathe. Instead, April's relationships with black men (and Val's dalliances with white men) are presented as part of their overall dating landscape. The opportunity arises – they take it. Their friends have jokes – but they have jokes about everyone. (Val's relationship with a younger white guy was joke fodder, not because of his whiteness, but his youth and overenthusiasm.) The show focuses on a multiracial view of Atlanta – and if the recent developments in the love life of Omar (Travis Winfrey) are any indication, Single Ladies may widen it's scope to look at queer Atlanta as well.
Here is Winfrey's perspective on playing a gay man who "isn't playing a gay guy:"
So it will be interesting if they decide to explore Omar's inner life – particularly if Wilson Cruz (famously Rickie Vasquez on My So Called Life) continues as his polyamorous love interest.
—
Also, random Star Trek fans shout out: