by Latoya Peterson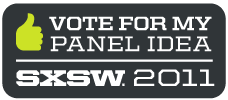 I don't know what happened to August, but September is staring us in the face and it's the last week to vote for our South by Southwest Panels! (Voting Closes Friday, argh!)
Here's my idea for this year:
Tech Power to the People! Digital Community Engagement

Latoya Peterson, Racialicious.com

How do we ensure no one is left behind in the tech revolution? This panel is designed to provide a look into the best practices for using media to engage with communities, particularly minority outreach and low income/low access areas. This panel will feature a variety of activists explaining the ways in which they have used mobile campaigns, apps, blogs, and other methods to engage their communities and transfer skills, as well as tips for evaluation and measuring results.

Questions answered:

1. How can I ensure that the community I am working with can actually utilize this technology?
2. Is advocating for broadband access the best way to engage with low income communities?
3. How can mobile campaigns (for both smartphones and dumbphones) be used to mobilize communities?
4. How can we tailor technology to work with transient communities (without stable addresses or consistent mobile numbers)?
5. What are the best ways to provide information on technology while dealing with issues of literacy and comprehension?

Level Beginner
Category Digital Divide
Tags community, media, workshop
Type Panel
Event Interactive 2011
(Side Note: SXSWi is doing something different with panelists this year, but I've proposed a joint session with Ariel Valdez and Miriam Perez.)
Please register and vote here.
Also, as a result of last year's push to get more POC to propose panels, I am delighted to announce some other kick ass panels featuring kick ass people.
Jeff Yang, of Asian Pop fame, proposed a panel called E-Race: Avatars, Anonymity And The Virtualization Of Identity. He also tapped the ever amazing Lisa Nakamura to be on it!
Deanna Sutton, of Clutch Magazine, proposed The Elevation of Black Women in New Media, which is so necessary.
J. Smith, better known as Jbrotherlove, proposed Blogging & Social Media for Niche Audiences.
Renina Jarmon, also known as M.Dot, proposed Race, Sex and Blogging: Limits and Possibilities, which is all about exploring that online ridiculousness.
Joel Dreyfuss of the Root is running a panel on Whiteness on the Web. (Can't wait to see how *that* will go over at SXSW.)
Erica Mauter, aka SwirlSpice (and part of the Racialicious community) proposed a How to Ensure a Diverse Tech Event panel, which is also extremely necessary. (I know I've been "the only" too many times in my short tech life…)
Rinku Sen is bringing it with a panel on Video Isn't Proof Enough: Killing of Oscar Grant
Samhita Mukopadhyay is bringing the stories of WoC to the table with her panel on People Power: Leveraging Personal Stories to Build Influence – she's also featuring Twanna Hines and Lynne D. Johnson.
There's also a dope SXSW Latin American push for proposals (including this one on Serious Games and Learning Languages) and I remember LAtism was doing a 100 panel push. There are also some cool proposals on using technology to help the underbanked, I'll try to get a full, updated list on Wednesday.
Until then, please register and vote!