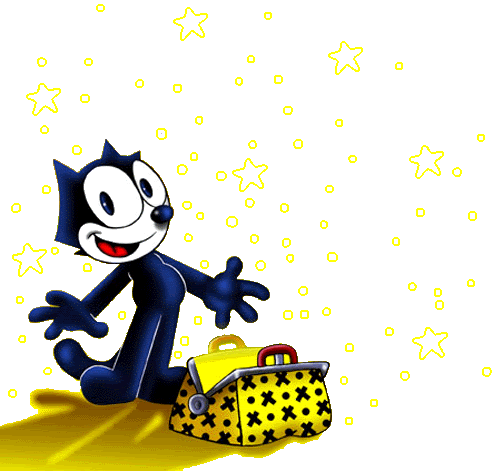 by Special Correspondent Wendi Muse
I recall hearing once that success is where preparation and opportunity meet. Apparently this expression is not suited for the President of the United States. Obama's moments of success in office, according to some, are occurring simply because he is, well, black and lucky . . . just like Felix the Cat:
President Barack Obama reminds me of Felix the Cat. One of the best-loved cartoon characters of the 1920s, Felix was not only black. He was also very, very lucky. And that pretty much sums up the 44th president of the US as he takes a well-earned summer break after just over six months in the world's biggest and toughest job.
This quotation comes to us hot off the presses and a hop, skip, and a jump across the pond from columnist Niall Ferguson of London's Financial Times. He has even blessed us with a nice little image in case some of the Financial Times readers are too young to know about the housecat named named Felix who is a cartoon and not a great club DJ:
"Felix the Cat, the wonderful, wonderful cat! Whenever he gets in a fix, he reaches into his bag of tricks!"
So IS President Obama simply black and lucky like our lovable cartoon friend? Or is there actually something he learned during his academic experience and political career that may have helped him along the way? I am not sure what to think, really, or even how I am writing this article. After all, being literate must be a good case a luck, right?
—
For more info, check out these pieces in The Huffington Post and on The Cartoon Brew. Also, check out this follow up on the Joker piece: "Listen Up, Lou Dobbs: 'Socialist' and the N-Word" by Carlos Watson.