by Special Correspondent Wendi Muse
models Joseph Ackon, Samira Carvalho and Ronaldo Martins for Osklen
Yesterday afternoon, I was talking to one of my colleagues when I noticed one of the most beautiful black women I had ever seen in my life walk through the door. Despite the young students running around at her feet, she remained calm. She stood out among all the other parents awaiting their children as she was the youngest, the one with the most poise, and the darkest. Amid all the other white parents, this young woman, despite the simplicity of her white canvas jacket and jeans, called for the most attention. She was simply arresting. My first thought was, "wow, she could be a model."
Yet this moment of wandering imagination was quickly squelched by the loud voices of two young and rambunctious pupils approaching from behind. I continued to watch as the two pale, fair-haired children ran to join hands with the woman who could give Iman and Naomi Campbell a serious run for their money, the contrast of their skin colors and body language putting everything in perspective. She was the children's caretaker, their nanny, possibly the family maid. And that is exactly the social order in which she would most likely remain, for no matter the intensity of her beauty, in Brazil, her color would be a disadvantage –  the mark of Cain, if you will. She was the color that I had heard some pray their children would not be. She was the color that stood as shorthand for crime and poverty. But in my eyes, she possessed a color that I quite frankly missed.
It's rare that I see people who have very dark brown skin in the Southern region of Brazil, which is made up primarily of whites of European descent (the majority being of Italian. German, and/or Portuguese origin), Asians (of Japanese descent), and people one could classify simply as "Brown" or "Beige," in that their racial background is multiracial and ambiguous or generally indiscernible (though this includes all of the aforementioned as well as African and indigenous origin). Though I occasionally see more blacks* in major cities of the south like São Paulo, they are few and far between in my neck of the woods. But upon seeing the woman who had come to pick up her charges, I was reminded of the simple fact that not only were people (especially women) markedly missing from the general population in the region in which I live, but they were glaringly absent from the fashion and beauty industry in Brazil.
A few moments later, I went upstairs to check my email, the UOL homepage reminding me to "VEJA DETALHES DOS LOOKS EXIBIDOS NOS DESFILES DE SPFW VERÃO 2009/2010." Something had completely slipped my mind: It was São Paulo Fashion Week.
Though SPFW had just begun on Wednesday, it had already caused a pre-event stir thanks to allegations of racism on the runway. The fashion week runways in Rio, though particularly in São Paulo, were striking for something beyond the fashion. Instead of being recognized for innovative designs, the shows were marred by accusations of blatant discrimination toward and exclusion of models of color (in this case, meaning primarily models of African and indigenous descent). Despite Brazil being a nation with nearly 50% of its population composed of people with African descent (according to the 2007 study conducted by the Brazilian Institute of Geography and Statistics (O Instituto Brasileiro de Geografia e Estatística, or IBGE)), the catwalks were snow white. In a country as diverse as Brazil, it was a shock and metaphorical assault toward a large part of the population by way of their very absence from the nation's most pivotal event in fashion and beauty after Carnaval.
After the allegations mounted to an all-time high during last year's SPFW shows, particularly with the help of extensive coverage by Folha de São Paulo, one of the most widely circulated and influential papers in Brazil, the organizers of SPFW were taken to task by federal prosecutors. According to an official model count made by Folha reporters, of the 344 models who participated in the January 2008 SPFW shows, only eight of them (you read that right, eight) were black. Prosecutor Déborah Kelly Affonso, who is part of a group of prosecutors who concentrate specifically on the issue of social inclusion, initiated what would become the fashion equivalent of affirmative action.
"The percentage of black models at the event is far less than that of white models. The objective of [the public prosecution department for which she works] is to come to a consensus on social inclusion, to establish the minimum number of black models to participate in the shows," noted Affonso.
As a result of this accord, SPFW was obligated to ensure that at least 10% of the models in each designer's show were black, of African descent, or of indigenous origin, or otherwise risk paying a $250,000 fine. Considering the demographic profile of Brazil's population, one would assume that meeting this newly established requirement would be easy. Yet some designers and stylists were less than enthused about the decision. Some denied all instances of racism, while others offered everything from straight up idiocy to petty, thoughtless excuses in order to legitimize and maintain their racist casting practices.
In reaction to the new racial quotas, one designer, Gloria Coelho exclaimed, "The quota can interfere with the work of the designer. Our work is art, something that has to convey emotion to which the people can identify."
I suppose "The people" with whom she is talking about having this great connection are not the 50% black/brown ones. But Coelho does not stop there. She continues to put her designer shoe-adorned foot in her mouth.
"During Fashion Week, there are plenty of black people sewing, helping style the models, working behind the scenes, and making beautiful things . . . there are black assistants, black salespeople….why must they also be on the catwalk?"
And I thought I had heard it all when European designers gave the typical "but their skin color distracts from the clothes" response.
According to Coelho, having black people work in the background was enough. If their work is coming out on the runway (albeit under Coelho's name, meaning they receive no recognition for their work), why must the people wearing it be black too? While I could mount a week's long response to Coelho, I will refrain and restrict my grievances to the following:
Dear Ms. Coelho,

When people who share your skin tone or ethnic background become one of the poorest, underserved, and least frequently recognized, praised, or accepted groups in Brazil, or even the planet, give me a call. When you happen to live in a place where everyone from actresses and politicians down to dolls and cartoons look nothing like you, send me an email. When the people who look like you often portray maids, criminals or fools on tv, send up a smoke signal. Until then, please reserve your dismissive, self-serving, privilege-laden bullsh*t for someone who has the patience to listen and commiserate.

Sincerely,

Someone Black
SPFW organizer Paulo Borges is another one on the FAIL list, having made several contradictory statements regarding the quotas. First, he claimed that he had no control over which models participated in the shows. Yet in 2007, Luminosidade, an organiztion of which he is a part, signed an agreement to restrict the use of models with severe health problems (i.e. eating disorders such as anorexia and bulimia or who were incredibly underweight) as well as models who were under the age of 16. Despite having been a part of this agreement and the organizer of Fashion Week itself, he has no say in who walks. . . Interesting. Then in hopes of distracting critics, he trotted out his adopted black son as a token of his being opposed to racism. Yet as noted by Folha, this decision is purely of personal political note and has nothing to do with the commercial side of his affairs. See! I am not racist! I have an ADOPTED BLACK CHILD! Cute.
Borges (right), sporting an Obama shirt (see? he's not racist!), pictured with actress Alice Braga (left)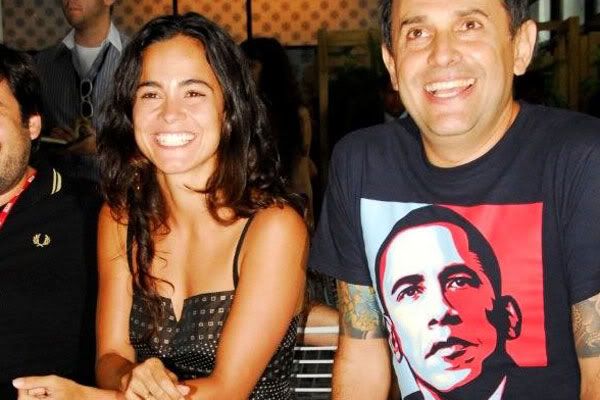 Casting agencies obviously play a major role in this runway racial struggle. As they are primarily responsible for sending the models to meet and audition for the designers, they hold many of the cards. Anderson Baumgartner, director of Way Model, an agency based in São Paulo, explains that there are fewer black models in the shows because they do not usually fit the body type sought after by the designers.
"They are more voluptuous, sexier; lots of them have bottoms that are a little bit bigger." Others think the problem may lie in there being fewer black people in hot spots, or high fashion areas in São Paulo. "People of African descent are not at the restaurants or at the places where the scouts search. You see fewer of them on Oscar Freire.**"
Needless to say, Gisele Bündchen was discovered while eating a Big Mac at a McDonald's in a São Paulo mall. The excuse just doesn't fly.
And while other designers, such as Alexandre Herchcovitch , São Paulo born and based designer and creative director of SENAC, a Brazilian fashion and design school, do not oppose the quotas, there is more to the story than simple opposing or supporting the government's attempt to level the catwalk. Some black models, organizations, and agencies are not exactly welcoming of the change, though for very different reasons.
According to Folha, Hélder Dias de Araújo, head of a black modeling agency, is one of the only people to accuse of SPFW of racism outright, yet he discusses racism with a twist.
"Sure, there is prejudice. But it's more social, class-based, than racial. If [we were talking about] Pelé or Barack Obama, no one would ignore [the problem]." Yet he notes that he is against the catwalk quota system, mainly because he believes that "Brazil must be ashamed to see that it is not a place for a 'pure race.'"
In other words, in continuing the racist practices in the fashion shows, Brazil would be setting itself up for embarrassment. Why host shows with an all-white cast of models when it is obvious, widely-known, well-documented that Brazil is a place of great ethnic and racial diversity?
Others oppose the quota because they believe it is not enough to remedy the problem of racism and exclusion in the fashion industry. Organizations like Educafro (Educação e Cidadania de Afrodescendentes e Carentes) is organizing an all-black fashion show in Ibirapuera Park (where SPFW takes place) as a protest to the continued absence of black models in fashion. They have also asked for invitations to the SPFW shows, primarily to conduct their own black model count, a task they have little faith in the Prosecution's Office to actually do (as of today, no such count has been planned by the government).
Both their and Araújo's argument make this issue a bit more complex and raise more questions about how to deal with the occupational hazard of racism in the arts. In such fields, do racial quotas and affirmative action-like measures have a place? Do they somehow infringe on artistic freedom or, worse, do they inhibit the prospect of viewing the models as individuals instead of statistics? And what is to be done to ensure the inclusion of non-black and non-indigenous models? What about models of Asian or Middle Eastern descent (both groups make up a considerable part of the Southern Brazilian population)? Though SPFW has only just begun, there are still a few more days and many more seasons to come for the public to observe how this will play out. Yet as racial tension mounts throughout Brazil as a result of multiple government measures to create equal access for all its citizens, regardless of race, one has to wonder what the state of race will be in Brazil in a decade or two. In the meantime, I'm going to sit back, relax, and watch my people work it on the catwalk. . .
—–
*I am using the generally accepted Brazilian definition for "black" here. For more info on this, please see my piece "Busy Being Foreign"
**Oscar Freire is a street, and by extension, quasi-neighborhood, recognized as one of the most upscale areas in São Paulo. The street is home to many expensive and well-known designer stores and boutiques. I have visited this area several times and even as someone foreign, I have felt out of place as one of the few middle class, non-whites gracing the pavement. The class tension is so evident it could be cut with a knife.
***check out clips from SPFW shows here: Fashion4FunBrasil
For more SPFW coverage (in Portuguese), go here: SPFW on UOL
—–
Sources consulted and translated for this piece:
Fioratti, Gustavo. "Cota para Negros Mobiliza a São Paulo Fashion Week" Folha de São Paulo. June 17, 2009 (link)
"Promotora Quer Cota Para Negros em Desfiles" Folha de São Paulo (Online Edition) April 12, 2009 via Geledés Instituto da Mulher Negra Blog (link)