by Racialicious Special Correspondent Wendi Muse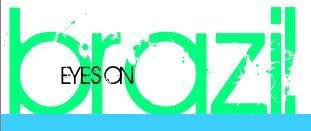 For those of you who are interested in learning more about Brazil beyond what I cover here, which is mainly from the pop culture/race perspective, check out this awesome site: Eyes on Brazil . The author and blog moderator Adam covers many facets of Brazilian life and culture, and gives the perspective of an estrangeiro ("foreigner") without patronizing, belittling, or exoticizing Brazil and its people. It's also a great site if you have general questions about Brazil and/or want to work on your Portuguese as Adam is highly responsive to comments and posts short video clips on Brazilian Portuguese colloquial expressions and slang. Here's a bit more about the site from the author:
Eyes On Brazil exists in order to give a deeper understanding of the Brazilian arts (as well as all things Brazilian) to an English-speaking audience. Personally, I've spent almost 10 years studying (and dreaming of) the sleeping South American giant known as Brazil. Seven of those 10 years were focused teaching myself Brazilian Portuguese, and as such, I consider myself fluent.
Adam also has sibling sites on Belem (Brazil), Salvador (Brazil), and even Colombia.Veja já!