by Special Correspondent Wendi Muse
So even though fashion designers have a tendency to appropriate and re-design fashion they witness during their world travels (or, cough, imperialist imaginations), the magazine writers and journalists just can't seem to find the right words to characterize the collections. Instead of talking about geometric prints, the use of found objects as jewelry items, and color choices in a way that could be deemed appropriate and less offensive, they shade their words with sweeping generalizations and talk about "Africa" like a one trick pony.
In a recent New York Times fashion week photo spread entitled "African Influence on the Runway," the first mistake made is the usual assumption that Africa is one big country. Morocco has a completely different fashion history from South Africa which has a different fashion history from the Congo, just, you know, as a tiny example. So in the title alone, they end up equating the diverse fashion traditions to one big imagined Africa. To make matters worse, the corresponding article is entitled "Out of Africa." In reading the captions, I kept waiting for a punchline. The Times was just being ironic and funny, right?
Nope. They were for real.
Photo 1: a woman with crimped hair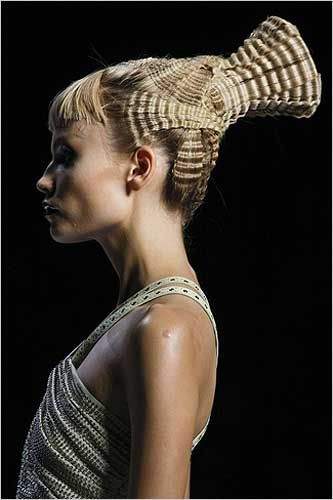 "In the 2009 spring season, African style is a drumbeat through the clothes and accessories. Surprisingly it isn't about the ethnic. Instead, it is the sculpted geometric shapes of Africa and its rich spicy colors that are the strongest forms of identity. Couture coiffeur Orlando Pita created these sculptural silhouettes for Christian Dior."
African style is a "drumbeat?" Come on, y'all, really? Oh and just in case we forgot, "rich spicy" is not a way to describe food. It describes a continental identity in its "strongest forms." Barf.
But wait, there's more. . . so much more!
Animal prints on dark-skinned black women also scream "AFRICA!" in a really cartoonish kinda way . . . I love pink African leopards, don't you?
Next up, Photo 3: a woman who takes a modern approach to the mumps: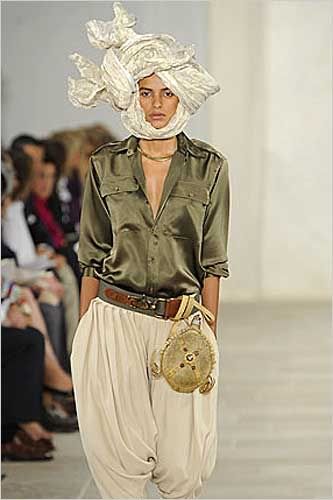 I love the pants. I hate the description:
"The colonial world has also been mined for inspiration. For Ralph Lauren, the colonial looks fell somewhere between India and Africa, with low-crotch pants- those in between sarouel and jodhpur styles that are so a la mode this summer."
I love that the colonial world has been "mined" for inspiration. What an adorable reference to the suffering of thousands of people in sub-Saharan Africa from the introduction of British, French, Portuguese, and Belgian colonialism. What a blast! No pun intended!!!! Oh and just in case you forgot, India is a country. So is Africa, you know, that big country in the southern hemisphere.
Photo 4: Marc Jacobs gets "spicy" with African masks:
Ok, gotta admit, these are awesome. The writer thinks so, too:
"Shoes are leading the forward march of African style- if you can get your hands on them. When it appeared on the runway, who could have believed this fantastical footwear could be the hottest item for summer 2009? No wonder Marc Jacobs baptized this shoe "Spicy," giving a name to the shoe, as had previously been the custom with the now-fading it bags."
Oh "African" style. . .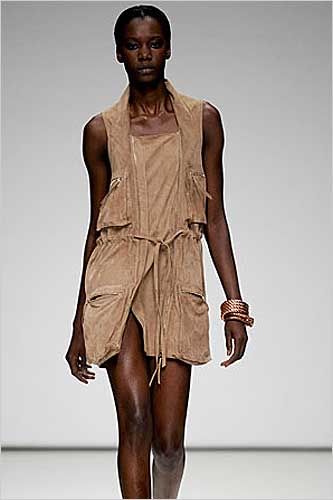 Nothing says "tribal" like a rouched burlap sack jumper dress!
"The most dramatic example of tribal fabrics was offered by the Japanese designer Junya Watanabe. He came up with bold prints in an African palette of big-sky blue, burnt orange, earth brown and leaf green. Those fabrics were made into pretty summer dresses."
Next photo: Yup, every African woman I know has flowers growing out of her head. I haven't been able to get it to work for me yet. Maybe it requires some special secret African recipe:
Photo 7: More headgardens!
Only this time, the cranial forest comes with jewelry made to look like it came from animals that are now endangered thanks to continued exploitation of Africa's (continent or country? The mystery continues!) natural resources. We'll look more "African" that way!
"Accessories with an African stamp work best for summer in the city, as seen at Marios Schwab. Bangles are everywhere, from wide cuffs to narrow bracelets, mostly in inventive modern materials to emulate the ivory and horn of now-endangered species."
I find it humorous that the only time we ever see any reference to people of color on the runway is when they are practically mocking the cultures from which they originated with outlandish re-creations of "ethnic" style. I think it is wonderful to find inspiration in various cultures' customs and traditions, especially when it comes to fashion, but there are far better ways to discuss said inspiration without patronizing, belittling, or oversimplifying said cultures. To add insult to injury, even in fashion lines that claim inspiration from other nations, the runways themselves remain white as Siberian snow. Diversity seems to only be a possibility when the colonial imagination of the designer runs amok or if he or she is deciding in which nation lies the possibility of cheaper manufacturing. Sigh.